Rank King - Eugene Ranks Everything
[
]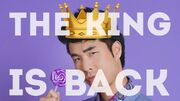 "I'm right. You're wrong. Shut up."
[
]
Rank King is a series where Eugene ranks a group of items from best to worst based on a set of criteria. Some episodes feature guests who share their opinions as well, though Eugene always has the final say due to his title as 'Rank King'.
A link to the series playlist can be found here.

List of Episodes
[
]