The Try Guys: 4 Vs. 1
[
]
"Can four regular guys beat a master in their own craft?"
[
]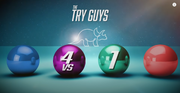 4 Vs. 1 is a Try Guys series where Keith, Ned, Zach, and Eugene attempt to beat a professional, or expert, in their field of expertise. To give themselves a chance of winning, the Try Guys are allowed to work together, or use the best of their four scores in a given turn, when competing.
A link to the series playlist can be found here.
List of Episodes:
[
]